How to Drive Through a Car Wash? When you don't have the time or patience to wash your car by hand, an automatic car wash may be a better option. Car washes are widely available and easy to use. In only a few minutes, you can have your vehicle looking clean for a few dollars.
Car washes, on the other hand, can be intimidating if you've never used one before. Consider these guidelines before using an automated car wash for the first time.
How to drive through a car wash?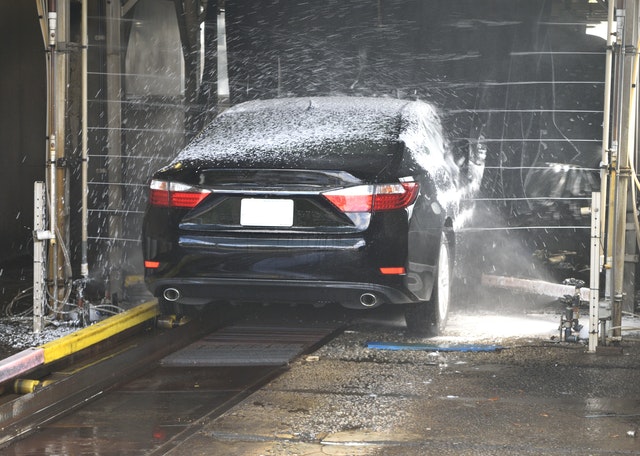 Figuring out how to go through a car wash shouldn't be hard. Hand washing at home, however, necessitates more than a bucket and sponge.
If you don't want to spend the money on a professional detail, a drive-through car wash could be a good idea. Fortunately, using a car wash is a piece of cake!
Look for a car wash in your area
You should be able to find automated car washes attached or detached to many gas stations nowadays. They provide car washes at a discounted rate to drivers who buy gas there. You can find stand-alone car washes near showrooms or even in shopping center parking lots to clean your car while you shop.
Work out the payment method
Self-service car washes will be the standard, with machines accepting cash or credit cards. If there aren't any available, you'll have to pay inside the garage or find a cashier.
You should then be able to choose the type of vehicle wash from either the cashier or the machine. Most automated car washes contain a station, similar to a fast-food drive-thru window, where drivers may choose and pay for the style of car wash they want. Drive-through washes often offer a variety of services, including car tire and wheel cleaning, undercarriage rust proofing, and spray-on waxing, in addition to a simple wash.
Get ready to go to the car wash
Pull up to the car wash's doorway. Look for any signs or arrows directing you to where you should park your car. However, your car must be completely shut before going through the car wash. Any open windows or slightly ajar doors could result in a soaked interior, putting passengers at risk.
It's a good idea to lock the doors and windows if you have pets or young children in the car to avoid them from being accidentally opened during the car wash.
You should also disable any automatic wipers. When water is detected, automatic wipers may interfere with the vehicle wash's brushes, causing damage to both your wipers and the car wash.
In most automatic car washes, there is some kind of signal that tells you where your car should be parked. There may be a track system against which your front tires should be stopped, or there will be signs indicating where your car should be. Some systems will use lighting to indicate that your vehicle is in the correct place.
Put your car in neutral (for manual transmission cars) or park after you're in the correct position (for automatic cars). Turn off your car's engine if instructed to do so.
Wait for the cleaning to begin
You are not required to do anything as the vehicle's driver during this time. The brushes and water jets in automated car washes can be extremely loud, and your automobile may shake a little as they run back and forth over your vehicle.
If you notice water entering your vehicle, double-check your doors and windows and close/roll them shut if necessary.
When the wash cycle is complete, a sign or flashing light will signal when it is safe to exit the garage area.
If you're exiting near a garage or a gas station, be cautious since other cars may be blocking the exit or driving across.
Pro Tip: To be on the safe side, check your vehicle completely (both inside and out) after the wash. Look for scratches or marks that weren't there before; if you notice anything, talk to the manager or person in charge about it, and he'll be able to help you.
Read more >> How to refill windshield wiper fluid?
How to use the self-service car wash?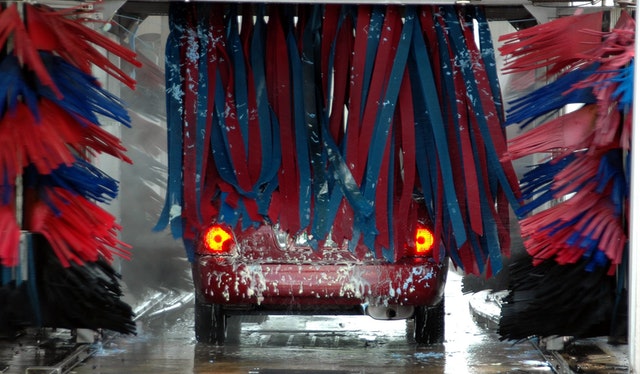 Using a self-service vehicle wash instead of a drive-through car wash is a great alternative. It's especially useful if you appreciate the satisfaction of cleaning your own vehicle but don't want to spend money on the necessary clothes and products.
It's also useful for those days when you clean for hours only to find bird poop on your car at the end. You don't have to go through a complete automatic car wash with self-service car washes, and you can clean only what you need.
Park your car next to the self-service cleaner

– There should be a designated spot for this; just make sure there is enough space around the outside of the car for the attachments to be used.

Locate the spray wand and make sure you have enough space

– you want your car to be close enough for the wand to reach all the way around, but far enough away so you don't get soaked.

Choose a spray setting

– normally, there are three options: wash, shampoo/soap, and rinse.

Put money in the self-service machine

– After you've selected a setting, putting money in the machine will allow you a specified amount of time to wash. Once you've entered your money, the machine may indicate this or there will be a timer. The spray wand will normally start right soon, so be ready and point it away from you.

Start washing your car using spray wands,

just like a pressure washer. To avoid damaging your car's paintwork, keep a 3-5 feet distance from it, although you can also test on a small area first.
Driving through car wash systems is developed for automotive dealerships, fleets, and rental car companies that require a simple, high-volume wash. This machine can wash up to 80 cars per hour and may be customized with different brush configurations and drying options.
If a drive-through car wash isn't for you, hand-washing your automobile doesn't have to be difficult. We'll walk you through the entire process, from cleaning your car headlights to washing your alloy wheels. Whatever approach you use to get that gleaming exterior, make sure the inside is clean by following our advice to cleaning your car interior.
If you are planning to get a driver's license, visit our website take a free DMV practice test pack, or and download it for your IOS or Android devices now!